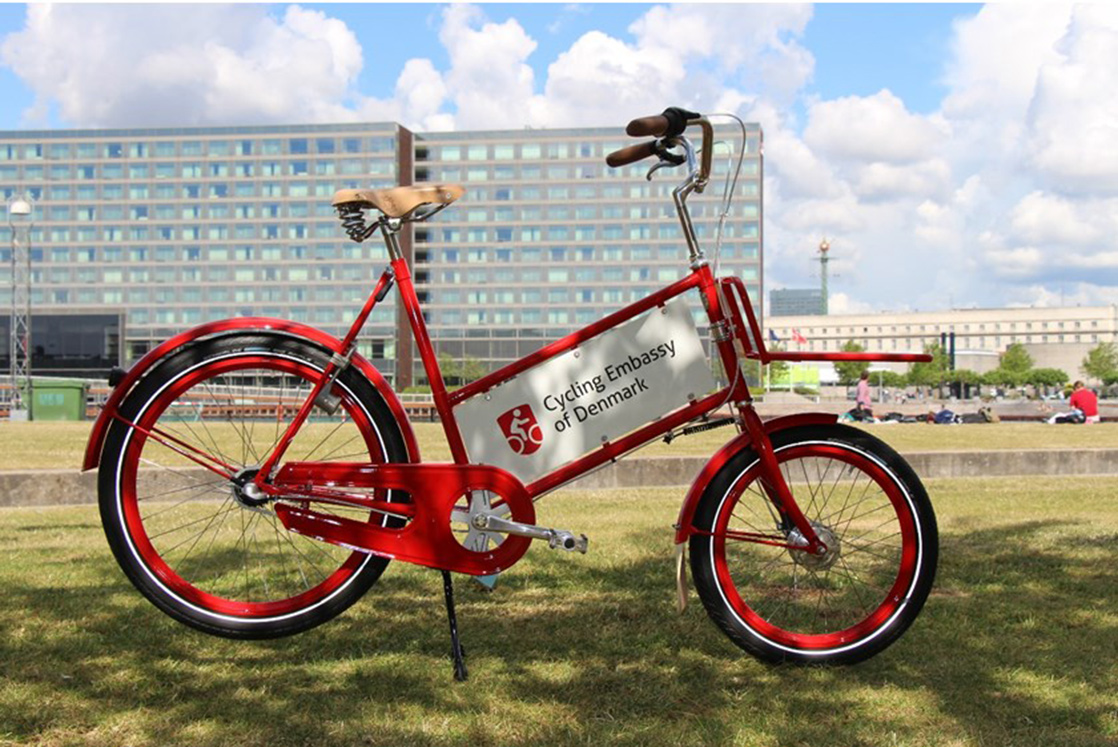 By Marianne Weinreich, Chairman of the Cycling Embassy of Denmark and market manager, Rambøll
Cities all over the world are facing challenges related to the effects of decades of car-oriented city planning: congestion, air pollution, noise, physical inactivity, CO2 emissions and crowded and unattractive public spaces. Cycling is a key component in meeting these challenges.
We have had over 100 years of experience planning bicycle traffic in Denmark, and we have a high share of cyclists. The Cycling Embassy of Denmark works to share our knowledge and know-how about bicycle traffic with the many communities and cities around the world working to promote cycling as a transport mode.
The Cycling Embassy of Denmark (CED) is a comprehensive network of cycling professionals from private companies, local authorities and non-governmental organizations working together to promote cycling and communicate cycling solutions and know-how. The CED was established in 2009. For further information visit Cycling Embassy of Denmark.
Cycling – Danish Solutions
The Danish Road Directorate published the first version of Collection of Cycling Concepts in the year 2000, a 200 page publication describing our holistic approach to cycling promotion in Denmark – from land use planning and the physical implementation of safe cycling infrastructure to communications and educational campaigns. In 2012 the Cycling Embassy of Denmark with funding from the national Cycle Fund published an updated version containing new information and solutions.
Now again in 2018 we have received a subsidy from the national Cycle Fund combined with funding from UCI and the Cycling Embassy of Denmark itself, and have updated and digitalized Collection of Cycling Concepts.  This website is the result. At the launching in June 2019 the website consisted of around 100 articles organized in 22 different themes (see theme menu). All the articles were written by Danish cycling experts.
The website covers a wide variety of topics ranging from cost-benefit analyses of bicycle traffic to children's cycling, ITS solutions for cyclists, bicycle parking facilities, bicycle tourism, as well as a number of articles on the planning and implementation of safe cycling infrastructure. However, we recommend you start by reading our nine overall recommendations first.
All the articles are addressed to municipal city and traffic planners, consultants, architects, NGOs, and politicians and other policy makers, i.e. everyone who works professionally with cycling promotion.
If you have any questions or comments to the articles, feel free to contact the authors directly. If you have general questions to the Cycling Embassy of Denmark, or feel that a topic has not been covered, or if you work with bicycle traffic in Denmark and wish to contribute non-commercial articles, please contact the Cycling Embassy of Denmark's secretariat at: info@cycling-embassy.org
Cycling in Denmark
Although Denmark, along with Holland, is the world's leading cycling country, cycling in Denmark is under pressure. Cheap, small cars, greater distances to work, and several other factors mean that Danes generally cycle less now than we used to.
However, there are significant differences between city and country. In Denmark's larger cities bicycle traffic is on the rise, and people are cycling for significantly greater distances.
Bicycles use varies between city and country
How much and how far we cycle in Denmark varies from city to city and city to country. Most cycling is done in the larger cities and least cycling in the smallest. Graph shows km per person per day in different sized cities: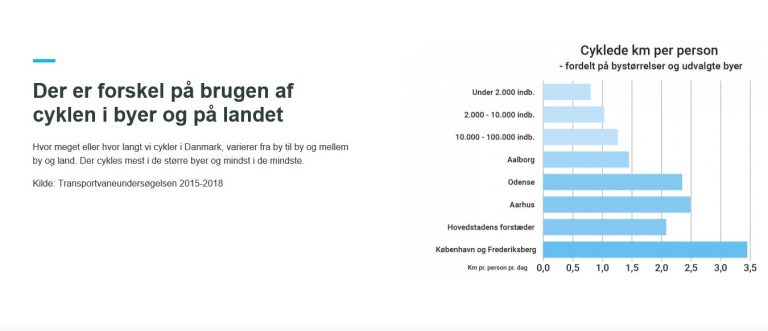 CED publication. Statistics Denmark, Danish National Travel Survey, Bicycle Account 2014, 2016 (City of Copenhagen), Cycle Superhighways of the Capital Region of Denmark, Regional Cycling Report 2016 (Capital Region of Denmark).
In Copenhagen 49% of all trips to work and education are now by bicycle (Cykelredegørelsen 2018) and the distribution of women and men who cycle in Denmark is 50/50. These figures are the result of 100-year planning for cyclists, planning that makes it easy, simple and safe to get around in Denmark by bicycle.
The basic design for bicycle traffic in Danish cities consists of networks of one-way curb-protected cycle tracks on each side of the road.

In Denmark the cycling infrastructure is funded by the local authority. For the past ten years, however, we have also had the national Cycle Fund, making it possible for local authorities to apply for 40% funding for local projects.
The local authorities determine the design of the cycling infrastructure in consultation with the local police. There are very few binding infrastructure regulations in Denmark.  You can learn more about our standards and best practice solutions in the themes "Planning the Cycling Infrastructure" and  "Designing the Cycling Infrastructure"
UCI
The Cycling Embassy of Denmark has been working with UCI since 2017. Founded in 1900, in Paris (France), the Union Cycliste Internationale (UCI) is the worldwide governing body for cycling. It develops and oversees cycling in all its forms, for all people as a competitive sport, as a healthy recreational activity, as a means of transport, and also just for fun. It represents, for sporting and public institutions alike, the interests of 194 National Federations, five Continental Confederations, more than 1,500 professional riders, more than half a million licensed competitors, several million cycling enthusiasts and two billion bicycle users all over the world.
The UCI's commitment is to lead the development of cycling as a competitive sport and activity in all its forms, across the world. The UCI manages and promotes the nine cycling disciplines: road, track, mountain bike, BMX – Racing and Freestyle –, paracycling, cyclo-cross, trials and indoor cycling.
Cycling is also more than just a sport – the use of the bicycle fulfils many functions outside the sporting sphere as a means of transport and leisure. This is why the UCI is committed to expanding its Cycling for All programmes, which are designed to improve conditions and accessibility for those practising cycling. Read more about UCI's Cycling for all program.
UCI Cycling for All Twitter: https://twitter.com/cycling
UCI Twitter: https://twitter.com/UCI_cycling
UCI Facebook: https://www.facebook.com/UnionCyclisteInternationale/
UCI YouTube: https://www.youtube.com/user/ucichannel
UCI Instagram: https://www.instagram.com/uci_cycling/