Experience Danish bicycle culture and cycling solutions on a guided bike tour with Cycling Embassy of Denmark. Photo: Danish Cyclists' Federation, Marie Hald
Join Cycling Embassy of Denmark on one of our guided bike tours. Visit one of Denmark's leading cycle cities like Copenhagen, Aarhus or Randers.
All guided bike tours are tailormade to fit the wishes and preferences of your delegation. Our bike tours are aimed towards people who work professionally with cycling. This includes planners in public administrations and private companies, local and national policy makers, academics and researchers, as well as active members of cycle organisations etc
Prices start at DKK 4.000 (excluding VAT) and do not include bicycle rental. 
Book a guided bike tour with Cycling Embassy of Denmark
Below you can see examples of guided bike tours done by members of the Cycling Embassy.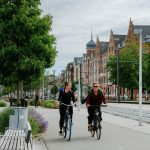 How do you create a cycling city?
Host: Moving Spaces
To answer this question, we must look at Copenhagen's past, present and future. We look at crucial causes and solutions for how Copenhagen has achieved half of all trips to education and work today – going by bicycle (49%). This is an interplay between urban planning, political conditions, documentation, architecture, collaboration and much more! Moving Spaces clarifies the multifaceted Diamond cycling is for Copenhagen and why the rest of the world can learn from it.

Host: Moving Spaces
This tour focuses on the health solutions cycling provides. How to tackle obesity and how urban planning and concrete solutions provides the answer to the health crisis many countries and cities face. How to squeeze in that exercise and what are the emerging trends we see to stay healthy in a busy everyday life?