Experience Danish bicycle culture and cycling solutions on a guided bike tour with Cycling Embassy of Denmark. Photo: Danish Cyclists' Federation, Marie Hald
Join Cycling Embassy of Denmark on one of our guided bike tours. Visit one of Denmark's leading cycle cities like Copenhagen, Aarhus or Randers.
All guided bike tours are tailormade to fit the wishes and preferences of your delegation. Our bike tours are aimed towards people who work professionally with cycling. This includes planners in public administrations and private companies, local and national policy makers, academics and researchers, as well as active members of cycle organisations etc
Prices start at DKK 4.000 (excluding VAT) and do not include bicycle rental. 
Below, you can see which member organisations that offer guided bike tours – please contact them directly.
HOE360 Consulting

The best the city offers

Ride the city with a Copenhagener, who knows the city from 20 years of professional experience. We will stop and discuss several concrete examples of cycling planning and infrastructure during the ride, tailored to your preferences.

#Urban planning #Cycling #Active mobility #Public Transport #Parking #Wayfinding and Signage

Read more at HOE360Consulting.com

Cities/regions: Copenhagen and the Capital Region of Denmark

Languages: English and Danish

Contact info: Niels Hoe

+45 5380 2922

Ramboll

Based on our 20+ years of experience of planning and designing bicycle infrastructure, we offer tailored tours that cover cycling infrastructure, urban planning, Cycle Super Highways, bicycle parking, integration with public transport, climate adaptation, etc. The tours are always led by one of our experts within the field.

Cities/regions: Copenhagen and Aarhus

Languages: English, Danish (we understand German, Swedish, Norwegian)

Contact info:

Chief Consultant Jacob Deichmann

+45 5161 3643

Thomas Krag Mobility Advice

Safe and pleasant guidance of groups, route planning, transport behavior and attitudes to cycling, figures on cycling and other modes, cycling infrastructure, bicycle parking, cycling and physical exercise, societal costs of transport, cycling strategies, the role of NGOs, intermediation of cycling knowledge in the form of reports, lectures, study trips and technical visits.

Cities/regions: All of Denmark, primarily Copenhagen

Languages: English, German, French, Danish

Contact info:

+45 27 11 86 24
Below you can see examples of guided bike tours done by members of the Cycling Embassy.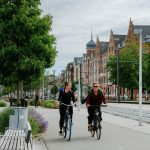 How do you create a cycling city?
Host: Moving Spaces
To answer this question, we must look at Copenhagen's past, present and future. We look at crucial causes and solutions for how Copenhagen has achieved half of all trips to education and work today – going by bicycle (49%). This is an interplay between urban planning, political conditions, documentation, architecture, collaboration and much more! Moving Spaces clarifies the multifaceted Diamond cycling is for Copenhagen and why the rest of the world can learn from it.

Host: Moving Spaces
This tour focuses on the health solutions cycling provides. How to tackle obesity and how urban planning and concrete solutions provides the answer to the health crisis many countries and cities face. How to squeeze in that exercise and what are the emerging trends we see to stay healthy in a busy everyday life?