Cycling – Danish Solutions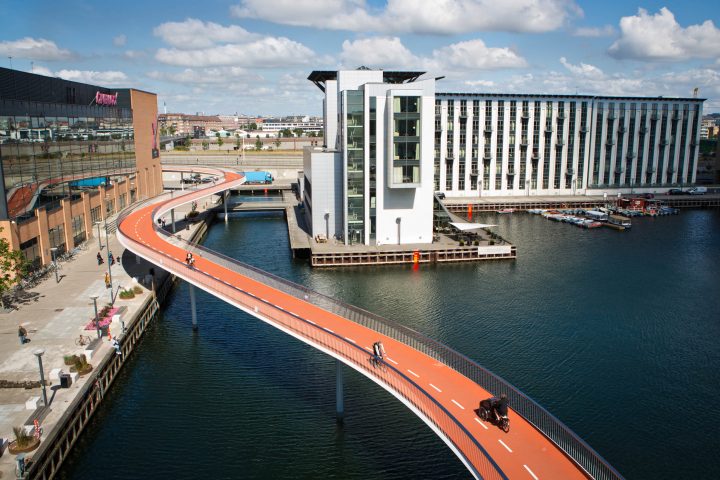 "Cycling – Danish Solutions" is the Cycling Embassy of Denmark's online knowledge bank about cycling in Denmark. The site covers a wide variety of topics ranging from cost-benefit analyses of bicycle traffic to children's cycling, ITS solutions for cyclists, bicycle parking facilities, bicycle tourism, as well as a number of articles on the planning and implementation of safe cycling infrastructure. However, we recommend you start by reading our nine overall recommendations first.
All the articles are addressed to municipal city and traffic planners, consultants, architects, NGOs, and politicians and other policy makers, i.e. everyone who works professionally with cycling promotion.
If you have any questions or comments to the articles, feel free to contact the authors directly. If you have general questions to the Cycling Embassy of Denmark, please contact the secretariat at: info@cycling-embassy.org.
Collection of Danish Cycling Concepts
The website Cycling – Danish Solutions is an updated and digitalized version of the publication Collection of Cycling Concepts. 
In 2000, the Danish Road Directorate published the first version of Collection of Cycling Concepts, a 200 page publication describing our holistic approach to cycling promotion in Denmark. In 2012, the Cycling Embassy of Denmark with funding from the national Cycle Fund published an updated version containing new information and solutions. In 2018, the Cycling Embassy of Denmark was able to present this new updated and digitalized version with co-funding from the national Cycle Fund and UCI.
UCI
The Cycling Embassy of Denmark has been working with UCI since 2017. Founded in 1900, in Paris (France), the Union Cycliste Internationale (UCI) is the worldwide governing body for cycling. It develops and oversees cycling in all its forms, for all people as a competitive sport, as a healthy recreational activity, as a means of transport, and also just for fun. It represents, for sporting and public institutions alike, the interests of 194 National Federations, five Continental Confederations, more than 1,500 professional riders, more than half a million licensed competitors, several million cycling enthusiasts and two billion bicycle users all over the world.
The UCI's commitment is to lead the development of cycling as a competitive sport and activity in all its forms, across the world. The UCI manages and promotes the nine cycling disciplines: road, track, mountain bike, BMX – Racing and Freestyle –, paracycling, cyclo-cross, trials and indoor cycling.
Cycling is also more than just a sport – the use of the bicycle fulfils many functions outside the sporting sphere as a means of transport and leisure. This is why the UCI is committed to expanding its Cycling for All programmes, which are designed to improve conditions and accessibility for those practising cycling. Read more about UCI's Cycling for all program.
UCI Cycling for All Twitter: https://twitter.com/cycling
UCI Twitter: https://twitter.com/UCI_cycling
UCI Facebook: https://www.facebook.com/UnionCyclisteInternationale/
UCI YouTube: https://www.youtube.com/user/ucichannel
UCI Instagram: https://www.instagram.com/uci_cycling/