Photo: City of Aarhus
Cycling Embassy of Denmark offers lectures on the latest knowledge of all areas related to cy­cling. We design lectures to fit your interests and needs.
Topics include planning bicy­cle and people-friendly cities, creating synergy between cycling and public transport, building safe infrastructure for cyclists like cycle tracks and bicycle bridges, developing successful cam­paigns and municipal policies that motivate people of all age groups to cycle, designing urban furniture like bicycle pumps, bike counters, and bicycle parking facilities, and more.
Prices start at DKK 3.000 ex VAT. Depending on group size, it may be necessary to rent a conference room the cost of which is not included in the price.
Book a lecture with Cycling Embassy of Denmark
Below you can see examples of lectures done by members of the Cycling Embassy.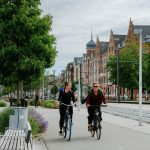 How do you create a cycling city?
Host: Moving Spaces
To answer this question, we must look at Copenhagen's past, present and future. We look at crucial causes and solutions for how Copenhagen has achieved half of all trips to education and work today – going by bicycle (49%). This is an interplay between urban planning, political conditions, documentation, architecture, collaboration and much more! Moving Spaces clarifies the multifaceted Diamond cycling is for Copenhagen and why the rest of the world can learn from it.

Host: Moving Spaces
This lecture focuses on the health solutions cycling provides. How to tackle obesity and how urban planning and concrete solutions provides the answer to the health crisis many countries and cities face. How to squeeze in that exercise and what are the emerging trends we see to stay healthy in a busy everyday life?