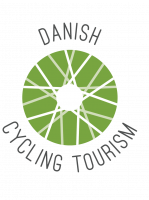 Danish Cycling Tourism is a non-profit association of public and private partners. Our main purpose is to develop cycling tourism in Denmark. We fulfill our purpose by kick-starting new projects, coordinating various actions and disseminate knowledge and best practices on cycling tourism. We work with both private businesses and public institutions.
Danish Cycling Tourism has great experience in managing large and small scale cycling tourism projects. We have executed both national and international projects, and projects with various scopes. We have great knowledge of all aspects of cycling tourism development – from infrastructure and service development to development of information tools, PR and campaigns.
Danish Cycling Tourism is the EuroVelo Coordination Centre for Denmark from 2016 and onwards.
Contact
Mail: mail@cykelturisme.dk
Web: www.cykelturisme.dk
LinkedIn: LinkedIn
Member of the Cycling Embassy of Denmark since 2015