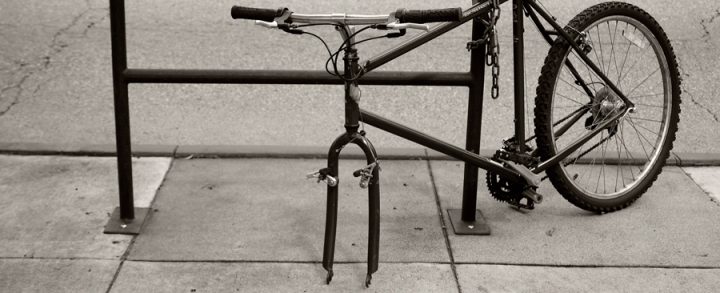 Bike theft is difficult to prevent and is rarely a police priority. However, cyclists are better now at protecting their bikes against theft. The Danish VIN- system makes it possible to check whether a bicycle has been reported stolen.
By Lotte Malene Ruby, Danish Cyclists' Federation
Many countries are plagued by bike theft and Denmark is no exception. According to Statistics Denmark more than 20,000 bicycle thefts were reported in 2016, but the figure is historically low.
The drop is hardly due to the fact that bike theft is on its way out, but that cyclists are now better at guarding their bikes against it. In Denmark, most people only have a classical ring lock for the rear wheel, but more and more people have begun to fasten their bikes to a fixed object when possible. Unlike in many other countries most Danes park their bicycles on the street. The bike is typically only fastened at night. Most people have access to private bicycle parking in their building or a bike shed or a space behind their house. Danish cyclists rarely take their bikes into their homes.
In Denmark bicycle insurance is often included in people's general home insurance, but compensation is only awarded if the theft has been reported to the police – and the bike has an approved bicycle lock.
The police register the stolen bicycles in the bicycle VIN registry so anyone can check whether a given bicycle was stolen. However, thefts are rarely solved as the police give greater priority to more urgent types of crime.
Bike thefts typically fall into two categories: opportunistic theft and organized theft. When it comes to opportunistic theft, the thief is usually someone who suddenly finds himself in need of a bike. Organized theft also occurs. The thieves grab a large number of bicycles at a time or target specific types of bicycle, usually expensive ones, which they may send out of the country.
The Danish bicycle VIN code system
The VIN- system is a special Danish system which was introduced back in 1942. It means that all bicycles sold in Denmark must have a unique code embedded in the bicycle frame. Compensation cannot be awarded without the code.
Cyclists can check whether a bicycle has been reported stolen at the National Police app for Android or Iphone.
The VIN- system may be on its way out. New technology means that there are now smarter ways of registering bicycles, for example a chip that can contain more information and even be traced with GPS.
An innovation group consisting of representatives from the insurance industry, the Danish Cyclists' Federation, and IT and traffic experts are currently working on a new solution.
Five Tips to Prevent Bicycle Theft
The Danish Crime Prevention Council recommends:
Always lock your bicycle – even for a quick trip to the baker's or in the garage when you get home.
Lock the bicycle frame and preferably both wheels to the bike rack, etc. – and use an approved lock.
Keep your bicycle in a locked space or shed if you can.
Be especially careful when parking at a station or a bus stop. In addition to locking your bicycle you should fasten it to the bike rack, etc. If a locked bicycle parking facility is available, use it!
Do not tempt the thief. Take loose bike lights, helmets, etc. with you.