Towards more visionary cycling policies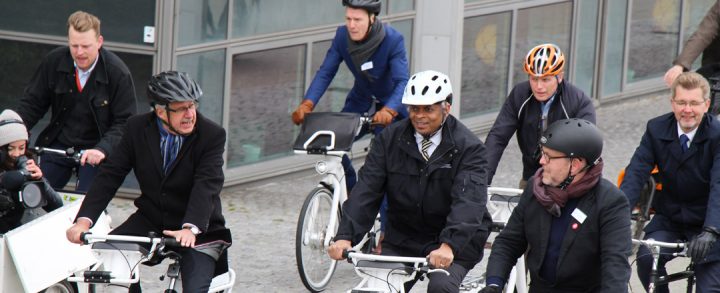 For decades Denmark has been successful in developing and implementing strong cycling policies. This is largely owing to strong communication initiatives and committed lobbying by a number of relevant players.
By Klaus Bondam, Danish Cyclists' Federation
Danish Cyclists' Federation was founded in 1905, when everyday cycling was becoming an important part of Denmark's daily transport. There are many factors explaining why the bicycle was and still is so important in Denmark, including the country's topography, climate and un-hierarchical social structure.
Later, high taxation of motor vehicles and favorable urban planning maintained the bicycle's position in the urban scene, and for generations made it natural for the state and especially the larger Danish urban authorities to invest in safe, secure, segregated cycling infrastructure.
In addition, over the past 25-30 years it has become common procedure to draw up municipal cycling policies, national cycling strategies, campaigns, bicycle accounts, etc. These documents and initiatives all create public debate and focus attention on the necessity and importance of including cycling on an equal footing with other transport modes when making political transport decisions.
Danish Cyclists' Federation has been the active advocate of the cyclist cause for so many years that it naturally speaks for everyday cyclists at public hearings and other political fora nationally as well as locally.  Danish Cyclists' Federation is a participating member of relevant fora, including the Danish Road Safety Council, the Danish Road Safety Commission, and the Danish Congestion Commission.
New players in the field
Today however, Danish Cyclists' Federation is far from the only high-profile player in the field of Danish cycling policy.  A number of other players have entered the field over the last few years, all of whom each in their own way contribute to shaping the development of cycling policy, by consultant response, debate, and dialogue.
A few of the main players:
The Danish Cycling Policy Think tank (Cykelpolitisk Tænketank)
The last-mentioned organization was founded in 2018 by Danish Cyclists' Federation and the Danish bicycle dealers association, and is a network composed of transport political spokesmen from the parliamentary political parties, and representatives from a number of other relevant organizations, including:
The Danish Cycling Policy Think Tank provides a closed, confidential forum where political decision makers can test ideas and get relevant input for their political work.
The importance of political front-runners
There can be no doubt that a cycle friendly political transport agenda in Denmark is only possible if there are individual politicians with the necessary interest and courage to think out of the box, particularly when it comes to transport policy.
Such a player could be a Minister of Transport who initiates a new national cycling strategy or ensures that State cash pools are adequately funded, or parliamentary transport politicians who keep cycling policy in the public focus through public statements, press debates, and communications via the social media. Parliamentary transport politicians can also initiate debates in the Transport Committee on transport modes to improve public health, for example.
It is equally important on the local and regional levels that there are mayors, aldermen and regional and municipal council members who are actively engaged in questions of local cycling policy, by entering into dialogue with the local branch of Danish Cyclist' Federation, for example, or by being visibly present at campaign activities and events to promote cycling.
Cycling policy is not merely transport policy
One of the greatest challenges when it comes to developing Danish cycling policy is that there is a strong tendency on all political levels to simply consider cycling policy as transport policy, i.e. merely a question of new cycling infrastructure.
Today however, everyday cycling should be seen as a means of addressing a number of the challenges confronting modern society, and so it is crucial to realize the potential of including cycling policy in a much broader context, such as climate change and public health issues, congestion and noise and air pollution.
Consequently,  a great deal of lobbying takes place in Denmark with the purpose of raising awareness  among politicians working in the fields of health, climate, the environment, and education, on the parliamentary as well as the local and regional levels. The goal is to encourage them to include the bicycle when seeking to achieve their political goals in other areas.
The Dos and Don'ts of cycling policy
The European Cyclists Federation (EFC) with input from Danish Cyclists' Federation among others, has drawn up a number of recommendations, Dos and Don'ts, for effective political campaigning by interest organizations that wish to actively contribute to creating visionary policies in their country or city.
Do
Be visible – so the other players, particularly politicians, recognize you as a credible presence.
Be continuous – Do the work beforehand, and make sure to have proposals and input drawn up well in advance. Politicians need to have a good grasp of your proposals before they hopefully implement them.
Be realistic – Accept the fact that cycling and transport policy rarely has top political priority, and it doesn't win elections although the climate agenda is becoming increasingly urgent.
Talk to everyone – You need to talk to everyone who wants to talk to you, particularly politicians. Even if you don't share many points of view you can place some good facts, which they may hopefully remember.
Be strategic –Try to pick the "low hanging fruit" first, and identify politicians that are or can be your allies. Try to build up a personal relationship with them (meetings, invitations to events, engaging with his/her social media platform, etc.) .
Feed the facts –Support your allies with facts or make suggestions for improvements that they can profit from. This will be helpful to you later on when you need something from them.
Check the facts –Be sure that you provide the politician with accurate facts. It's deadly for a politician to be caught with 'wrong numbers'.
Wait for the right moment – Be prepared and patient and wait for your "window of opportunity". Many things can only be achieved if you act at the right moment.
Be transparent – All solutions that you put forward must be publicly accessible.
Be patient –Understand that a politician has to work within a given structure and timeframe.
Be trustworthy – Be trustworthy, discreet and loyal to the individual politician. It's the only way to obtain trust and get useful information in advance, or gain influence over his or her political development.
Be kind and positive in the press – Politicians appreciate it when others talk about them positively and respectfully in public.
Be vocal in your approval – Praise politicians when they get it right.  They receive approval so seldom that this can be very effective.
Don't
Never insult a politician – This will drastically reduce your chance of success. In public or in private, in writing or in speech, regardless: there are 'ears' everywhere.
Don't be unrealistic – Be demanding, but don't be unrealistic. It reduces your credibility and you'll lose the politician's attention.
Don't limit your outreach – Don't concentrate solely on one party even if you share many points of view. This gives you a party image, and damages your credibility.
Don't be indiscreet – No politician likes to be quoted after a confidential dialogue. They may not want their political opponents to obtain the information they gave you.
Don't bash politicians – No politician likes to be bashed in public. It easily makes them look ridiculous .
Don't be offensive – Don't be rude or impolite in your contact with politicians.
Don't be forgetful –Don't forget to invite politicians to relevant events, and don't neglect your mutual dialogue. They want you to provide them with an ongoing stream of information. That's what makes you a credible partner.
Don't be intransigent- Don't be rigid and unreasonable in your demands. Be willing to compromise – and DO understand the limited space they have for political maneuvering.
Don't be experimental in your input – Push for the tried and tested. Politicians want solid proposals backed up by scientific evidence, facts, and research