Infrastructure and design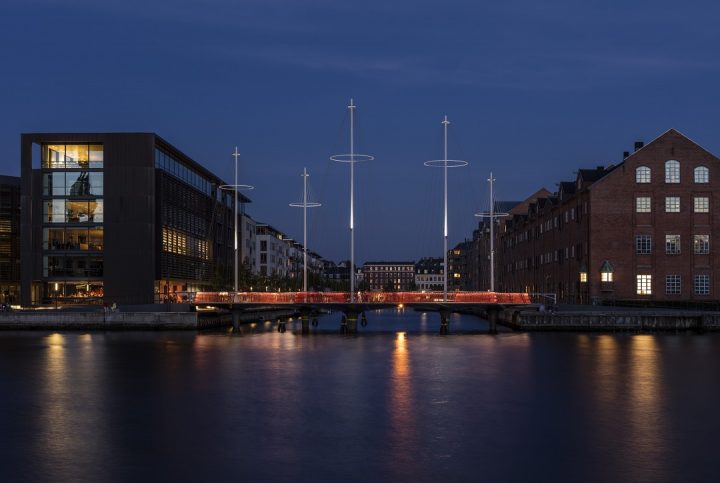 Design can create better cycling solutions and attractive urban spaces, but there must be no compromise on road user understanding and traffic safety. In particular cycle track bridges with the right design can be excellent landmarks in cities and promote a cycling city.
By Troels Andersen, Odense Municipality
Denmark is well known for its use of design in architecture, furniture, and other products. This has naturally spread to selected streets, squares and other urban spaces where both form and function play a major role. Cyclists appreciate beautiful design too, but it must not be at the expense of function and traffic safety.  Road user understanding of traffic is based on simple, logical principles that are an integral part of the Danish road rules. Traffic signs and road markings are an expression of this logic.
The Cultural Bridge in Aalborg is a bicycle bridge mounted on an old railway bridge. Cyclists and pedestrians can now save two km each way. Photo: Visit Aalborg.

A number of architects wish to challenge this rational system in order to create beautiful road spaces that form a coherent whole with other architecture and planting.
It can be done, but there are unfortunately also examples which have proved unsuccessful. These can be remedied, however.  The subject is best understood by looking at some illustrative examples of road stretches, bicycle bridges, and bicycle tunnels.
Odense Municipality, for example, has a general policy of reserving 1% of a construction budget for artwork.
Road stretches – examples
There have been several examples over the years of trying to fit bicycle traffic into the design of important streets and urban spaces:
Overgade in Odense was reconstructed in 1997. This is the main historic axis along an ancient route across Funen. The entire stretch , made of granite and designed with a flat profile, could easily be converted into a pedestrian zone at a later time. Cycle tracks in jetburned, cut granite were established here for the first time in Denmark. However, a number of pedestrians didn't know where to go. The problem was that the street lamps were initially planned to form the division between the pavement and the cycle track, but since the fire authority wanted to be able to drive against the direction of traffic, the street lamps were placed further out.
Superkilen (the Super Wedge) is a public park in outer Nørrebro, which is a part of the city of Copenhagen's neighborhood  renewal scheme. Photo Troels Andersen.
Superkilen (the Super Wedge) is a public park in outer Nørrebro in Copenhagen, which opened in 2012. The project is part of the city's neighborhood renewal scheme to improve the quality of the neighborhood by urban renewal up to a high international standard. However, the red cycle track turned out to be slippery in the rain. First, warning signs were set up, and then cycling was not allowed through Den Røde Plads. After several months the cycle track was cleaned, treated with a new primer, silica sand and dirt-repelling surface.
In Aarhus the new harbour area between Dokk 1 and Navitas is designed to give the many pedestrians and cyclists a view over the water. The area has a uniform light surface with occasional raised pavement markers, since it is a shared space concept. This is the cause of a number of conflicts among road users who don't understand the design, particularly cyclists. No decision has been reached to correct the situation.
At Frederiksholms canal in Copenhagen a flat top has been cut on the cobble stones in the cycling area along both sides of the street. Simple and elegant.  Photo. Troels Andersen
Frederiksholms Canal is a famous historical stretch without cycle tracks. Traditionally there have always been cobble stones, which are very unpopular for cycling, but a traditional asphalt cycle track would not be appropriate here. Consequently a flat top was cut on the cobblestones in the cyclist area along both sides of the street.
The new Hans Christian Andersen House in Odense is a prestige project scheduled to open in 2020. A new cycle superhighway will run through the area, and will be adapted to fit in with the architecture. The cycle track route is designed with curves so as to reduce local cycling speeds. The surface is burnt brick and options are being considered for physically separating the two directions.
Nytorv square in Aalborg will henceforth be virtually car and bus free. It is important to install measures to prevent conflict between cyclists and pedestrians. Pedestrians tend to forget cyclists on large car and bus free squares unless there is clear surface differentiation, signage and marking.
Bicycle bridges – Examples
Over the years there have been several examples of promoting bicycle traffic in key urban spaces by establishing new bicycle bridges.
The Bicycle Snake has become a landmark for the world's best cycling city, Copenhagen. Photo: Troels Andersen .
The bicycle snake runs north of Fisketorvet in Copenhagen and has proved a giant success among cyclists. Pedestrians, however, are not allowed on it, and need to take a less attractive route. This leads to frequent conflicts with pedestrians on the bicycle bridge.
City Bridge, Odense has become a landmark and a symbol of the city of cyclists. Photo: Odense Municipality
City Bridge in Odense connects the historical inner city with the harbor, which is undergoing a major transformation. The project was designed on the basis of an architecture competition. Cyclists and pedestrians are segregated with a physical traffic island. Lighting is built into the railing. It was necessary to paint a white line along the length of the railing because the cyclist's handlebars could get caught in the railing.
Inderhavnsbroen Bridge in Copenhagen met with a number of technical challenges along the way, but is now a great success among cyclists and pedestrians. Photo. Troels Andersn
Inderhavnsbroen Bridge connects Nyhavn and Christianshavn in Copenhagen. There have been many challenges, for example, down-hill cyclists have to make a sharp turn halfway across, and the cycling surface is slippery when wet.  Better markings have been installed for cyclists.
Bicycle tunnels – Examples
Gladsaxe municipality has installed a new, intelligent tunnel lighting system on a cycle superhighway. The new lighting is both functional and attractive, and makes the Farum route a better and more secure experience. The new lighting system is intelligent and adapts to the time of day and time of year. The same technique is used in a new bicycle tunnel at SDU in Odense.
In the city of Borne, Holland they've successfully upgraded an old, insecure bicycle tunnel. A 115 m long tunnel has now been made light and inviting by means of LED lighting and a complete tunnel cladding of ceramic steel plates, which are highly graffiti resistant. The project cost DKK 2.6 million and the cyclist response has been extremely positive.
Sources
Cykelsti-kaos langs havnen: Nu er der ændringer på vej, Lokalavisen Aarhus, 21. februar 2018
Stitunnel i Odense – spuns, kunst, trafikafvikling, Nils Malling Aaboer og Carsten Vinther-Okholm Larsen, Trafik & Veje, maj 2017