Infrastructure – road stretches and intersections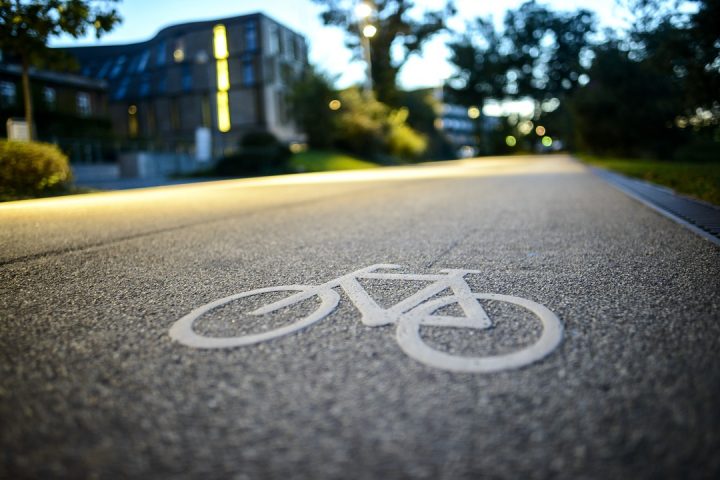 It's best to aim for a uniform solution in each area which in urban areas should primarily be based on one-way cycle tracks. The road rules contain excellent recommendations, but pilot projects to test new measures may also prove necessary. Cyclist capacity demand should be calculated where traffic is heaviest.
By Troels Andersen, Odense Municipality
Although road stretches and intersections are discussed separately in several articles, they always need to be considered as a whole. Planners should decide on an appropriate level for a general standard, and the chosen solution should be uniformly implemented on longer routes or within a given area whenever possible.
Bus bulbs with a platform between the cycle track and the bus can provide space in the cross profile. Cars have to wait while a bus is at the bus stop. Photo: City of Copenhagen
Cycling infrastructure planning offers a variety of solutions for road stretches and intersections.  The traditional one-way cycle track on each side of the road will usually be the solution of choice for larger roads. It has stood the test of 125 years of Danish traffic planning.
There is good reason to hesitate before using two-way cycle tracks in Danish urban areas since Danish drivers do not expect cyclists to come from both directions. However, in certain circumstances two-way cycle tracks along the road may be used to make the network more cohesive, when no better options are available.
A short two-way cycle track stretch and a signalized cyclist crossing make Nørrebro cycle route cohesive. Photo: City of Copenhagen
In the country, two-way cycle tracks can be the best uniform solution since they cost much less than one-way cycle tracks.
Cyclists can also cycle in mixed traffic with low car traffic volume and calmed car speeds. Elsewhere cycle tracks with their own layout are a good solution, and cycle routes can sometimes be composed of several different types of solution.
The choice of road stretch solution also partly determines the choice of intersection solution.
A characteristic feature of Danish intersection design is that the "flat" left turn for cyclists is not allowed due to cyclist traffic safety.  Cyclists must first cross to the opposite corner before they turn left, and not until there is no cross traffic. The intersection design should reinforce the idea that cyclists must keep to the right, and that they need to proceed to the opposite corner where they may have to wait before turning left.
A number of factors are involved in the choice of solution: level of professional ambition, space, funding, etc.
The road rules provide an excellent starting point for designing traffic areas for cyclists.  The road rules for cycling infrastructure are included in the overall road rules. They may be difficult to overview but all Danish road rules are available on the Danish Road Directorate's road rule portal.  In addition:  Håndbog i Cykeltrafik.
A number of road rules are of particular interest to cycle planning: rules for urban traffic areas, planning roads and paths in open country, cycle superhighways, wayfinding for cyclists, horseback riding and hiking routes, and fauna and human passage.
The road rules pertaining to cycling are mostly guidelines or directives. This means that infrastructure design is largely up to the local authority subject to police approval. The design of two-way cycle tracks, however, is a norm, i.e. the rule must be followed. This also applies to the road rules for wayfinding and other signage.
Right turn shunts improve accessibility since cyclists don't have to wait for the light to change before turning right. Photo: Troels Andersen
In recent years several Danish cities have profiled themselves as active cycling cities and have developed new solutions. For example 90 cycle shunts have been installed in Odense that make right turns possible without waiting for the green light. Copenhagen has the ambition of becoming the world's best cycling city. Aarhus, Aalborg, and others have also shown that a focused commitment to cycling results in more cyclists. A city like Silkeborg wishes to connect the many, small local communities by the so-called 2 minus 1 roads, i.e. a road with only one traffic lane for cars in both directions, and wide edge lanes for the use of cyclists and pedestrians.
Cycling cities inspire out of the box thinking and higher standards. Solutions will also need to be devised for situations where no rules have been developed yet. Even though the road rules are regularly updated, changes are needed to make it possible to implement new sensible bicycle traffic solutions.
Parked cars in parking bays protect cyclists in the cycle lane. Photo: Troels Andersen
In Danish traffic planning the state and the local authority are the road authorities. The police and the local authority must agree on new road projects, and if they can't, they can appeal to the Ministry of Justice.  The police consequently have a considerable influence on traffic planning, including determining the bicycle traffic infrastructure to be used in practice.
In new cycling cities abroad many solutions are established simply by painting on the road surface. Here is a bike box in New York. "Quick and dirty" may sometimes be worth considering  in Denmark, too.  Photo: Troels Andersen.
Det er i et vist omfang muligt at afprøve nye løsninger som forsøg. Det kræver en dispensation fra Vejdirektoratet, men det er ofte muligt. Det er dog afgørende, at der typisk er tale om en forsøgsperiode, og at kommunen normalt skal betale for etablering, evaluering og eventuel fjernelse af løsningen. Det kan desværre holde en del kommuner fra et tage initiativ til nye forsøg.
Pilot studies of new solutions are allowed to a certain extent. This requires dispensation from the Danish Road Directorate, but is often possible. However, normally it's just a test period, and the local authority must fund the establishment, assessment and if necessary the removal of the solution.   Unfortunately this discourages many local authorities from initiating pilot projects.
Cycle track capacity
The road rules' recommended width of a two lane cycle track is 2.2 m. According to the road rules this means a capacity of 2,000 cyclists per hour. Each additional lane increases the capacity by 1,500 cyclists. A 3 m wide cycle track should consequently be able to handle 3,500 cyclists per hour. The calculation does not take into account the rising share of wide or long bicycles.
A capacity calculation for bicycle traffic is not necessarily the only input for determining cycle track width. Being able to cycle side by side and still be overtaken by a third cyclist (so-called social cycling)
could an argument for a cycle track width of 3.0 m on key road stretches.
Sources
Vejdirektoratets vejregelportal