Solutions for road stretches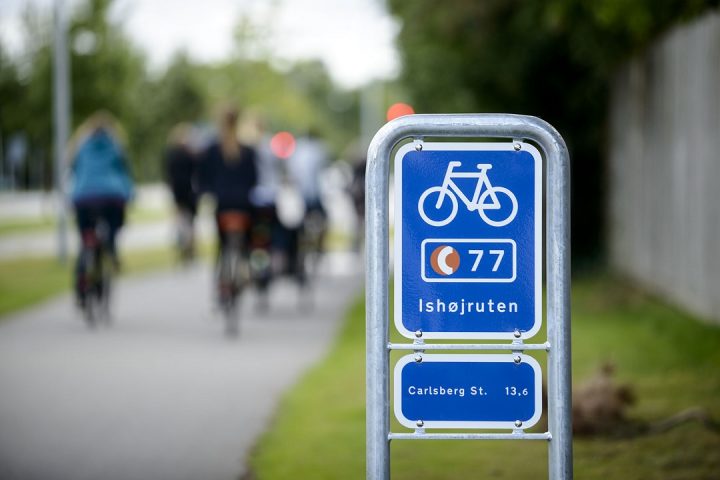 The one-way cycle track with a kerb is the excellent standard solution for safe bicycle traffic. However, cycle lanes, edge lanes, or two-way cycle tracks are also possibilities if there are really good reasons for choosing them.  The most important factor is the path width.
By Troels Andersen, Odense Municipality
In Denmark a traditional cycle track with a kerb between cars and cyclists and between cyclists and pedestrians is almost invariably placed between the pavement and parked cars. The solution can be used in most urban situations and is a familiar element for everyone, so familiar in fact that it is usually not even necessary to indicate it by a cycle track sign. Cycle tracks give cyclists good safety, good sense of security, and good accessibility on road stretches between intersections.
Cyclists are twice as satisfied with cycle tracks as with cycle lanes, which means that cycle tracks may increase bicycle traffic volume. Copenhagen has examples of bicycle traffic rising by 20% and car traffic dropping by 10% when a new cycle track stretch is opened.
Cycle track and pavement are clearly segregated by a beveled kerb, which makes cleaning and winter maintenance easier, and which is much less dangerous to hit than a vertical kerb.  Photo: Frederikshavn Municipality
In local areas with lower levels of  bicycle traffic such as Frederikshavn,  narrow, cheap solutions  may be chosen, including cycle tracks with a maintenance- friendly demarcation between the cycle track and the pavement, two-way cycle tracks, and cycle lanes in urban areas.
Bus stops
When cycle tracks are established between the pavement and the traffic lane there is a potential conflict between cyclists and bus passengers. A bus platform should be installed so bus passengers don't have to step directly onto the cycle track. If this is not possible, cyclists must give way to bus passengers.
Other factors
More usable space can be created on a cycle track by installing side entry gullies built into the kerb so they don't make the cycling surface area uneven. Photo: Troels Andersen
Traffic safety issues involving parked cars are almost completely resolved by establishing cycle tracks, provided the cycle tracks are wide enough.
However, on roads with large, closely spaced intersections some of the cycle track's comfort and safety advantages are lost. On roads with signalized intersections and fewer side streets cycle tracks are fine, provided the correct intersection solutions are chosen.
Cyclists tend to feel insecure near fast moving traffic.  Verges along the road stretches improve their sense of security.
Cheaper solutions such as road markings, bollards and the like, which are common abroad, might be used to a greater extent in Denmark. Planners may also consider cheaper solutions that require less space, such as road reflectors, raised pavement markers or glued kerbs. However, some solutions are high maintenance.
Two-way cycle tracks
Two-way cycle tracks along the length of the road in urban areas should only be used to a limited extent and only after careful consideration. The problem is that in Denmark drivers don't expect cyclists to come from both directions. However, two-way cycle tracks can be used in urban areas where there are few intersections or other crossings. Planners should be aware of the potential conflicts that arise when the two-way cycle track terminates. Two-way cycle tracks can and should be used when this is the only way to make the cycling infrastructure cohesive.
Two-way cycle track along the length of the road. The solution works well here because there are no crossings .Photo: Troels Andersen
In rural areas a two-way cycle track is often the most realistic solution. There are often comparatively few crossings. It will usually be possible to design the intersections so cyclists are visible. Two-way cycle tracks are considerably cheaper than cycle tracks on both sides of the road. Be aware that in Denmark there are binding road rules for two-way cycle tracks' minimum width (2 .5 m and 1 m verge toward the traffic lane). Planners must decide which side of the road is the best placement for a two-way cycle track.
Ownership can play a role, but the choice should be primarily based on the number of intersections and the location of the most important destinations, for example schools.  A traffic island will make it much easier and more secure for cyclists to cross the road.
Cycle lanes
In cases of speeds of up to 50 km /h and medium traffic volumes without many heavy vehicles, cycle lanes (marked by a 30 cm stripe) of a reasonable width can be an acceptable solution. Cycle lanes are cheap to establish when the road is wide enough, but if the road needs to be widened they cost the same as a cycle track. Cycle lanes improve cyclist sense of security although not to the same extent as cycle tracks.
Cycle lanes are a good solution on urban roads without shops and with few intersections.  Cycle lanes do not address safety issues with parked cars in the cycle lane, but if there are marked parking bays outside the cycle lane practically all cars park correctly and serve as an effective defense against moving motor traffic. However, this presupposes effective local parking control.
Cycle lanes were established here for economic reasons, since they are better than nothing. Remember to decide whether or not there should be parking restrictions. Photo: Troels Andersen
Cycle lanes may also be a forerunner for actual cycle tracks. To make this feasible, the cycle lane must be built with the same width as the future cycle track and with the same restrictions on car parking. It will then be relatively easy to establish cycle tracks when the local authority can afford it.
Edge lanes
The primary use of edge lanes is in rural areas. They resemble cycle lanes, but are usually narrower and cars are allowed to park on them. This may be forbidden by signage, however. Traffic calming is often necessary on through roads through minor towns in Denmark in order to address the needs of the residents and more vulnerable road users.
In such cases and on roads with small traffic volumes wide edge lanes may be better than nothing. If road widening is necessary in order to establish edge lanes, cycle tracks should be established instead.
One way roads
Very few major thoroughfares are one-way in Denmark, whereas smaller one-way roads are fairly common. On larger one-way streets it may be necessary to install contra-flow cycle lanes or tracks, which normally receive police approval.
If a one-way street is only regulated by a sign, cycling can often be allowed by replacing the No Entry sign with a No Entry for Motor Vehicles sign.
Slip lane solution for contra-flow cycling. Photo: Troels Andersen.
How much space does bicycle traffic need?
In cities with increasing bicycle traffic and more three wheeled bicycles that may be up to 1.25 m wide, there are is an increasing need for greater cycle track width. Two legal 3-wheeled bicycles will not physically be able to pass each other on a 2.5 m wide two-way cycle track. 3.0 -3.5 m may therefore be necessary where there is a lot of bicycle traffic. On one-way cycle tracks the road rules recommend 2.2 m width, minimum 1.7, which barely allows space for two ordinary bicycles. Planners should always think twice before choosing such narrow tracks.
2.25 m will often be a suitable standard in cities with many cyclists, but if two three wheelers should be able to pass each other, a 3.0 width is necessary. The alternative is that the faster bicycle will be unable to pass.
If a minor street is one-way on a given stretch, contra-flow cycling will often be perfectly acceptable without a contra-flow cycle lane/track, but a concrete assessment is necessary.  In some locations the police have allowed contra-flow cycling without a designated contra-flow area, only the sign, and sometimes with asphalt markings at intersections, so-called slip lanes. At other locations the police required cycle tracks/lanes. This meant that those projects weren't implemented, since it wasn't possible to remove enough kerb side parking spaces.
In Odense uni-directional traffic regulations do not apply to cyclists. When cars drive at low speeds and there is not much traffic cyclists can easily deal with mixed traffic. Physical traffic calming measures are often necessary to ensure that cars drive sufficiently slowly.
The space compromise
There needs to be space for cyclists even when there are no cycle tracks. The inner traffic lane in Danish streets will often be a few meters wider to allow for cyclists. Planners should always consider whether a cycle track or cycle lane can be established instead of a wider traffic lane.
When drawing up a cycling infrastructure plan, planners must always ensure that there is enough space for the desired cycling solutions.  A cross profile of the stretch should be drawn taking the road rule widths as a starting point. In addition to cyclists there must be space for pedestrians, busses, motor vehicles, and perhaps parked cars.  It will often turn out that there simply isn't enough space for all of this using the ideal width. In that case the individual elements may be trimmed or minimum widths may even be used for certain elements. Another possibility is to prioritize and completely remove elements from the equation, for example parked cars on one side of the road, or reduce the number of traffic lanes from four to two. Another alternative is to make the road one-way to accommodate cyclists.
Cycle tracks with varying widths on Gammel Kongevej, Frederiksberg
It's important not to end up in a situation where cycle tracks are too narrow to function properly. Set the bar high, but it may be necessary to compromise in order to achieve basic cycling improvements.
Sources
Sikkerhed og tryghed på cykelstier i København, Niels Jensen, Københavns Kommune. Cykelviden nr. 13 (feb. 2007).
Trafiksikkerhed for cyklister. Indsatsplan for sikker cykeltrafik 2007-2012. www.kk.dk Følg By og trafik, Byens Trafik, Trafiksikkerhed. Heri links til Trafitec-undersøgelser for Københavns Kommune.
Sikkerhed og tryghed ved cykelstier og cykelbaner i København. 4 Trafitec-undersøgelser (Søren Underlien Jensen) for Københavns Kommune: Effekter af cykelstier og cykelbaner (2006). Cyklisters oplevede tryghed og tilfredshed (2006). Effekter af overkørsler og blå cykelfelter (2006). Smalle cykelbaner ved lyskryds (2010). www.trafitec.dk
Bekendtgørelse om cyklers indretning og udstyr. nr. 316 af 20-5-1999. www.retsinfo.dk
Bekendtgørelse nr. 783 af 6-7-2006 om vejafmærkning. http://vejregler.lovportaler.dk