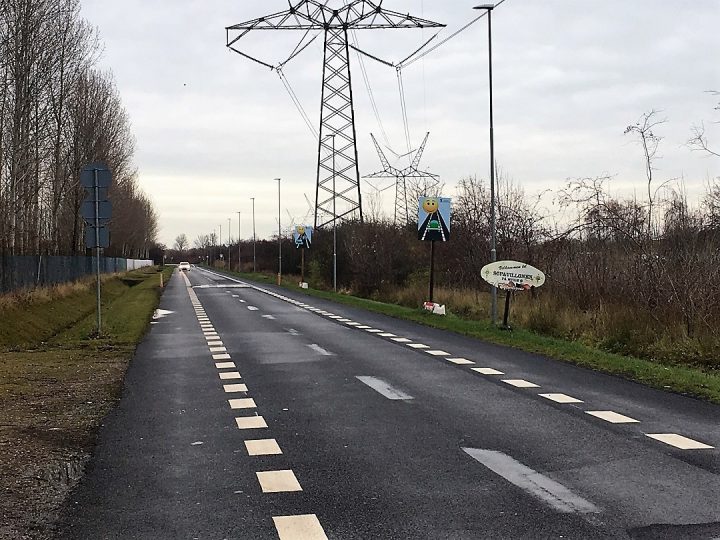 Edge lane roads (or 2 minus 1 roads) can be a cheap alternative to cycle tracks and cycle lanes when space or funding is scarce. Cyclists have priority in part of the space and drivers need to pay greater attention to cyclists. Denmark has had good experience with such roads in rural as well as urban areas.
By Troels Andersen
An edge lane (or 2 minus 1 road) is a new measure in Denmark, and may sometimes be a good facility for cyclists especially. It's a cheaper alternative to a cycle track or a cycle lane, but does not have quite the same effect.
Edge lanes are often used on minor roads outside urban areas. Silkeborg municipality is an example of the extensive use of edge lanes, in 23 locations.
What is an edge lane?
Edge lane roads are roads with only one visual traffic lane, which is used by road users in both directions and which has a dotted edge line on each side of the road. The edge lanes are used by cyclists and pedestrians and as a passing place when two oncoming vehicles meet. Edge lanes are not dedicated to vulnerable road users, the dotted edge line may be crossed by motor vehicles.
Edge lanes may be established in urban zones and in open country.
Why choose an edge lane?
Edge lanes can improve cycling and walking conditions within the existing road width on roads with limited traffic. Edge lanes can also help reduce driving speeds. Finally edge lanes help increase driver safety because the driver is usually placed in the center of the road.
Illustration of principles for edge lanes at 60 km/h
Requirements
According to the Regulations on the use of road markings, an edge lane must meet the following requirements:
Speed limits may not exceed 60 km/h outside built-up areas and may not exceed 50 km/h within built-up areas.
The traffic lane width shall be between 3.0 and 3.5 m.
The edge lane shall be minimum 0.9 meters including road marking with a wide dotted edge line.
There shall be stopping sight distance appropriate to the chosen speed limit to ensure that road users can give way when meeting oncoming vehicles.
Before establishing an edge lane, planners must make sure that the road layout doesn't require a center line.
Recommendations
There are the following recommendations:
The edge lane should be no wider than 1.5 m since wider edge lanes invite motor traffic.
An A43,1 road narrowing sign and the narrow road sign should be set up at an appropriate distance before the road stretch.
Peak time traffic should not exceed 300 motor vehicles/hour, and annual average daily traffic must not exceed 3,000.
The stretch may be reinforced with traffic calming measures at a distance and of a design equivalent to the road rules recommendations. It's recommended to start with one traffic calming measure.
Road markings in developed areas should be applied for the sake of noise nuisance.
Road markings must be maintained on an ongoing basis.
The measure should be followed up by information and educational campaigns explaining how drivers should place themselves in different situations.
Edge lanes (2 minus 1 roads) should not be established on roads where considerable parking is necessary on the side of the road. It should be considered whether to install no parking/no stopping signs.
It should be considered whether to establish bus stops as a one- lane narrowing with a kerb where cyclists/pedestrians are led around the narrowing. This design requires a speed limit of 40 km/h or less.
Minimum widths should not be chosen for all targets in the cross section.
This edge lane road has a speed limit of 40 km/h and there are speed bumps and a parking prohibition on some segments. Photo: Troels Andersen.
Advantages
Bicycle traffic is a challenge for many local authorities in rural areas, especially when it comes to school route traffic. Traditional cycle track construction is heavy to construct and very expensive. This is the main reason that cycle tracks are rarely established along local rural roads. An edge lane can improve cycling conditions within the existing road width on roads with limited traffic.
Edge lanes send the message that there is space for vulnerable road users, and they create a greater distance between vulnerable road users and traffic. This naturally requires new driving patterns, and consequently speed limits should normally be lowered.
Edge lanes also help reduce the actual driving speed, partly by lowering the allowed speed limit, and partly because drivers need to be more considerate of each other when they meet. Experience shows, however, that it may be necessary to reinforce markings with traffic calming measures to achieve satisfactory speed reduction. In Silkeborg municipality there were 50% more cyclists on week days when edge lanes were established.
Finally, edge lanes contribute to increased driver safety because drivers are usually placed in the center of the road. This makes it easier for them to straighten out and avoid driving over the edge of the road if they lose control of the car during a moment's inattention. The placement of cars in the middle also makes more space and a better field of vision for drivers coming from side roads and private properties, who need to drive onto the road.
A study of the effect of edge lanes (or 2 minus 1 roads) in Denmark showed that the number of accidents dropped by 29%.
See how an edge lane works here: https://www.youtube.com/watch?v=51azrFbUSFw
Sources
2 minus 1 veje, Erfaringsopsamling, Vejdirektoratet, 2015